"CLOTHES FOR SMALL DOGS!"

People put clothing on their small dog for different reasons. For one thing some small dogs need to be protected when taken outside in certain weather conditions. Some just enjoy dressing their little dogs up - it's fun and they love to pamper them. They are cute all dressed up and the dog enjoys the attention he gets when taking a walk. People especially like to dress up their guy or gal on holidays!

Weather
protection is important for small dogs. A coat, sweater or sweatshirt keeps these small dogs warm, protects their organs and keeps his body temperate normal. You can buy little booties for their feet too. Just pick out what is necessary for your dog breed.
Remember
safety
comes first. Check clothing to see if it has loose strings or anything that they can choke on or get caught in. Purchase well made clothing.
Get the right size for your dog something that fits good and doesn't restrict motion of his body. Since different breeds are shaped different you need to check proportions of clothing. Most web sites (if you buy on the internet) will till you how to order the right size.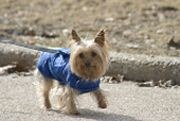 Here are some tips for getting a sweater or coat on your dog especially the first time. Give him a treat and take your time getting it on right. Do select clothes that are easy to get on and off. Velcro closings and snaps are great for that. Also select clothes for your dog's comfort.

There are many places to get clothes including the internet and even E-Bay. You can buy almost any style of clothing you want. Some of them are: t-shirts, sweatshirts, raincoats, shirts, hats, dresses, fleece outfits, pajamas, baseball shirts and more. You can get accessories like ribbons, bows and jewelry.

Just look at this cute Polar Fleece Hoody from Chimpfeet. Check it out and look at other clothes they have. Just click on the cute dog.

Leave Clothing For Dogs and return to Home Page.