" THE SHIH TZU IS A GRACEFUL TOY DOG THAT IS VERY ENGAGING."

The Shih Tzu is one of the oldest breeds. They are graceful little dogs with plenty of spunk. They are known as the "Chrysanthemum Dog" because of the hair that grows about the face in all directions. They are very popular as a companion and as a show dog.
HISTORY

It is thought that the Tibetan Lhasa Apso and the native Pekingese were bred to produce the Shih Tzu in Peking. They were a favored pet of the Chinese emperors of the Manchu Dynasty in the 19th Century. No until 1930 was the first one imported to England because the Chinese revered them so much.
PHYSICAL DESCRIPTION

This breed is small, compact and sturdy dog with short legs and a long flowing coat. They have a round and upright head, broad and wide between eyes which are dark, large and round. A plumed curved tail flows over it's back. They have a jaunty step.

Weight: 9-16 pounds

Height: 9-10.5 inches

Life span: 15 years

Their double, lavish and long coat with the undercoat that is wooly and the outercoat very long. When this dog is full grown the undercoat helps give an overall graceful appearance to his coat and fall naturally to the ground.
GROOMING

These dogs require a good brushing daily with a bristle brush usually a topknot is tied with a bow so the dog can see. Keep his coat trimmed if you want to spend less time with daily care. If kept long you should take him to professional groomer every two months to be clipped to give him that Shih Tzu look.
You need to clean ear passages and area around eyes and put special drop in his eyes to keep clean.
This little dog is good for people with allergies because they shed little to no hair.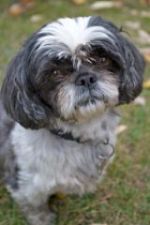 CHARACTERISTICS AND TEMPERAMENT

Friendly

Happy

Playful

Non-aggressive

Outgoing

Can be stubborn

Active

Alert

Sweet

Gentle

The Shih Tzu is an engaging, spunky, loyal and friendly companion.
He carries himself with a proud, dignified and aristocratic bearing. He has a strong sense of self. He would be a poor choice for a household with babies or small children. He tends to be jealous of babies and toddlers. He would be a fine companion for older children.
He can have separation anxiety when left alone to much.
A fairly active indoors dog and okay without a yard but daily walks are a good idea to stay fit. He is sensitive to heat.
Less yappy than other toy breeds. He his usually friendly with strangers and other pets.
Since they are so persistence, consistency is needed for training. It should be low key because punishment would make this dog shut down.
SHIH TZU'S ARE BASICALLY HEALTHY BUT SUBJECT TO:

Kidney disease

Slipped stifles or kneecaps

Eye problems

Short muzzle often produces slight wheezing problems and snoring

Don't overfed as well known to gain weight quickly.
Expect 4-6 months consistent crate training to housebreak.
Buy from a responsible breeder who breed dogs together that have been medically tested for generatic health problems and found free.

Leave Shih Tzu and go to home page.