"HAVANESE DOGS ARE WONDERFUL AND MAKE GREAT FAMILY PETS THAT DON'T SHED."





Havanese dogs are in the toy group and a member of the Bichon family. Their friendly temperament makes them a natural companion dog.

HISTORY

They are the national dog of Cuba, the only true Cuban breed. It is thought that their ancestors traveled to Cuba when the Spanish were exploring the Caribbean's.

PHYSICAL DESCRIPTION

Havanese dogs have large, dark ,appealing eyes, coats that are long, soft, wispy with tufts or curls at the ends. Their tail is plumed over their back. Their ears are medium-long, muzzle is squarish looking, nose is broad and squarish which is solid black or dark brown.

They come in
many colors
from: white, shade of cream, champagne, gold, black, blue, silver, chocolate or any combination. There are
three coat types:
smooth, curly, and wavy. The wavy is the preferred coat and the most uniquely Havanese. Their hair is long, soft and abundant. The coat slight designed for a cooling agent for hot days. So on cold days they need protection.
They are a
non-shedding dog
and don't have that "doggie odor".
Weight: 7-13 pounds
Life Span: 14-15 years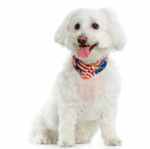 Characteristics and Temperament:

Fun

Devoted

Very sociable

Intelligent

Loving

Entertaining

Obedient

Active

Gentle

Responsive

Good watch dog

Happy nature

Affectionate

Playful

They are
cheerful and get along with everyone.
They need a great deal of companionship and they don't like to be left alone for more than a few hours at a time. This breed is
excellent with children
and extremely playful. They are also good with other animals. They are polite with other people and animals.
A Havanese loves to sit up high on furniture and observe what is going on around him.

GROOMING

They need frequent grooming or they become matted. Regular bathing with conditioning and trimming. They need to have their ears cleaned to prevent ear infection.
This breed is not a yappy dog but alert you to approaching people. If they do bark a lot early training should take care of it.
They are difficult to housebreak because they have a smaller bladder than other small dog breeds. They need consistent crate training to housebreak them.
They are sensitive to the tone of your voice so beware that harsh words upset him when training him.

HAVANESES ARE HEALTHIER AND STURDIER THAN THEIR MALTESE COUSINS BUT ARE PRONE TO:

PRA

Cataracts

Luxating patellas

Poodle eye

Dry skin

A good apartment dog, very active indoors and just need average exercise.
Havanese puppies are in high demand because their breed is being "discovered". They are, however, an expensive dog that cost between $1800.00 to $2500.00 from breeders and it is possible to wait 6 months to 2 years to get one. Since they are in high demand you really need to be sure who you are buying from. Don't buy from a puppy mill or a low quality breeder. Ask the breeder questions related to this breed and get the proper certificates.





Leave Havanese and return to home page.