DOGS GOOD FOR CHILDREN

"The 15 Best Dog's For Children."

Are you getting a puppy or dog for your children? Which dogs are good for children? There are many things to consider to get just the right dog for your children and family.
Here are some major points to consider
before
choosing a dog breed.
How to decide on the right puppy for your family.


The best charactertics and temperaments of different dog breeds good with children.


Dog size versus child size.


What to look for before you take your new puppy or dog home.


Dog traits not conducive to children.


What is the most common family dog breed in America.


Which small dog breed likes children the most.


The most trainable dog breed.


The best dog breed for active families.


The best dog breed for therapy work with children.

BUT THERE IS MORE....DOGS REQUIRE CARE, TRAINING, EXERCISE.
Care and maintenance

Difficulty of training and housebreaking associated with various dog breeds.

My ebook will tell you the answers to all these questions and more.
Are you a first time dog owner? I will tell you the best dog breed for you.


I will give you a Tidbit about mixed dog breeds.


You will learn the best breeds for apartments and small condominiums.


You will learn dog breeds not good with children.


You will not only find this interesting but it may help you in your decision. It is themost widely owned dog breed the the world.


I will tell you which dog breeds are the most even-tempered.


Which dogs are prone to becoming overweight.

Finally, you will learn how to choose a reputable dog breeder because you do not want to get a pure breed dog from just anyone!
Just $7.00 for the ebook " 15 Best Dogs for Children"!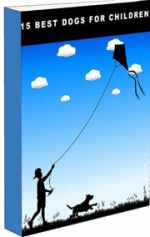 Order securely through Paypal and if you don't a Paypal account you can still order with a credit card payment on the paypal screen just scroll down to credit cards.
Click on the button to order your copy of the ebook "15 BEST DOGS FOR CHILDREN"
Thank You!