"FRENCH BULLDOG DOGS WERE BRED TO BE PETS AND COMPANIONS."

The French Bulldog or Frenchies have a happy-go-lucky attitude. They are playful, affectionate and very sweet.
HISTORY
These dogs were developed in England as a miniature version of the English Bulldog. In the 1860"s the French dog breeders imported some small Bulldogs from Great Britain and bred them with French Terriers.

PHYSICAL DESCRIPTION
French Bulldogs are a small study muscular dog. They have a square flat head with a rounded forehead and a pug nose. They have prominent round eyes that are dark colored with erect rounded bat ears. Their tail is straight or can be cork-screwed. Their coat is short, soft, smooth and fairly loose. It's easy to care for and comes in brindle, fawn, white and a combination of brindle or fawn and white.


Height: up to 12"
Weight: 22-28 pounds
Life span: 10-12 years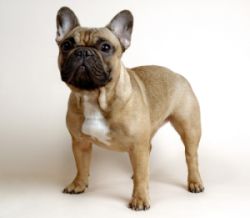 Frenchies were bred to be pets and companions. They are a good pet for the elderly as they are clean and quiet. They do need lots of companionship and often bonds strongly to one person. They tend to need people a lot and don't like to be ignored. They are happy in any loving environment. As for children they are best with older considerate ones.
They make good apartment dogs and require very little exercise, they however love to run and play. They are sensitive to temperature extremes and prefer cooler climates. They tend to struggle to breath in hotter and humid weather.
CHARACTERISTICS AND TEMPERAMENT

Comical personality

Love clown around

Bright

Easygoing

Curious

Alert

Active

Good watchdog

GROOMING
The French Bulldog require little grooming just regular brushing. They are an average shedder.

TRAINING

They can be somewhat willful to train so consistency is required. They don't respond well to harsh training methods so owner needs to be patient with him.
HEALTH CONCERNS PRONE TO:

Eye problems

Respiratory problems

If overweight may have problem breathing

Many of these dogs do snort, snuffle and snore. They can slobber and drool after eating. They can't swim.
French Bulldogs are difficult to find and can cost between $1000 - $1500 from a breeder.



Leave French Bulldog and go to home page.